dance like no one is watching ballet slipper applique
SKU: EN-M20565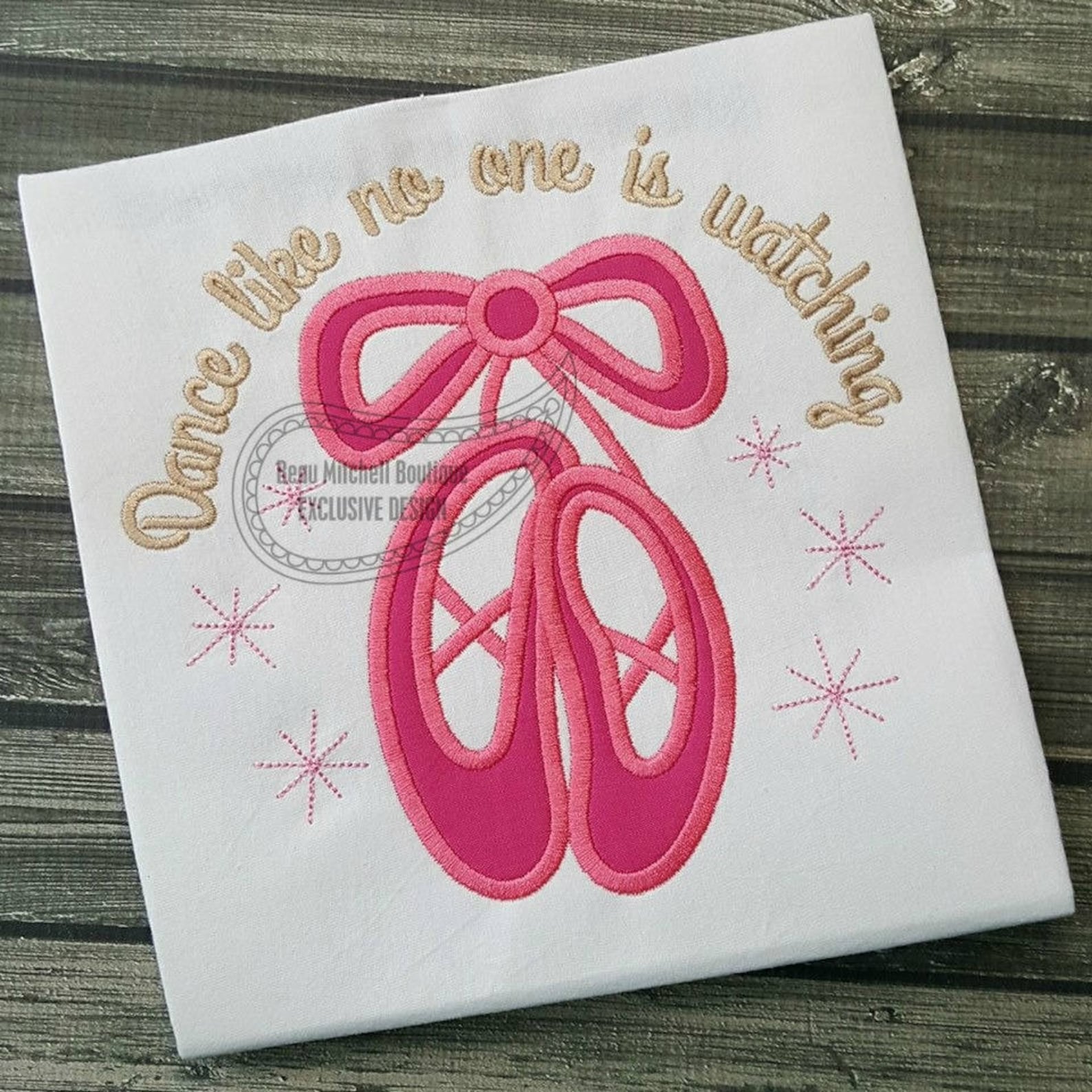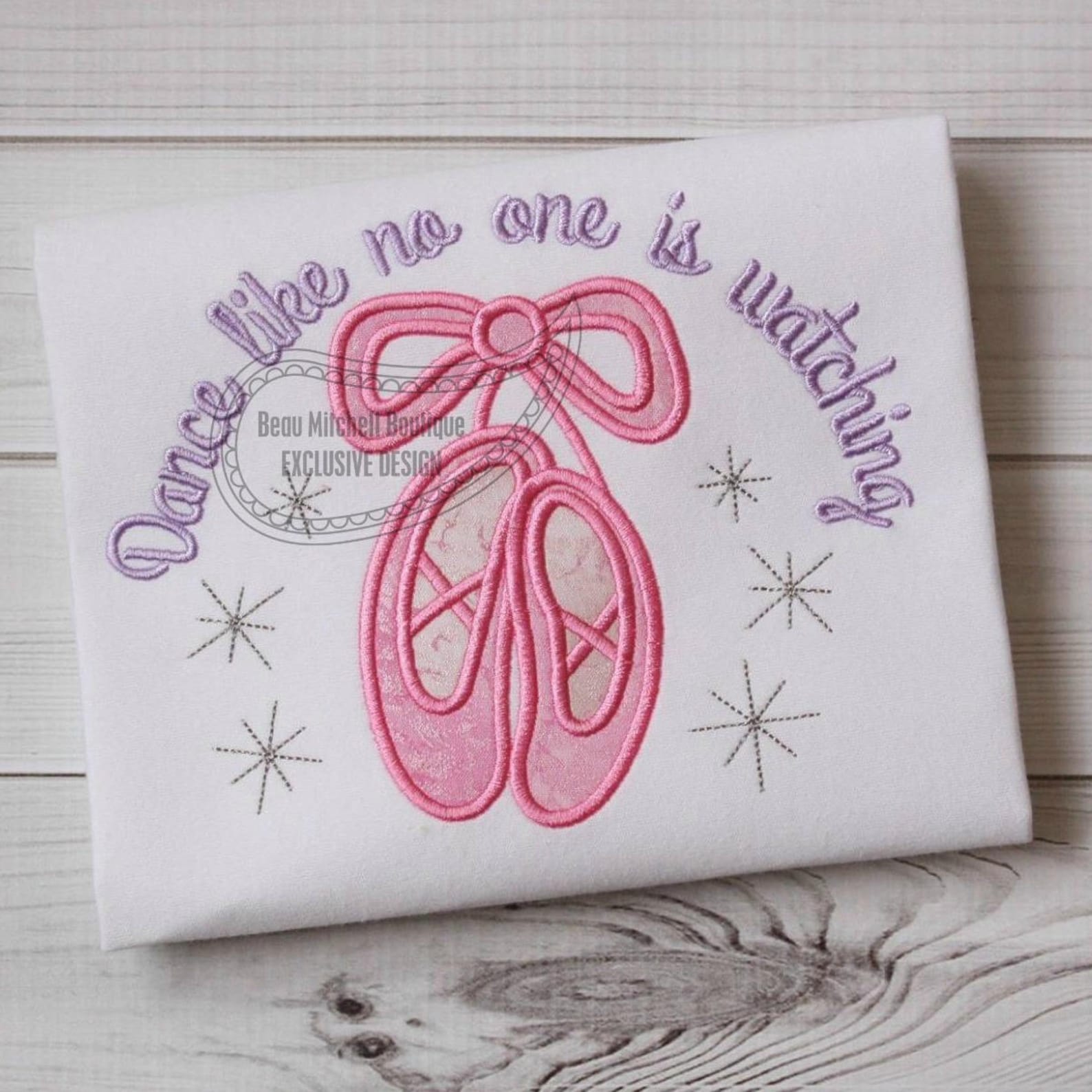 dance like no one is watching ballet slipper applique
Set to Dvorak's "Stabat Mater" and danced with purpose and clarity by Susan Roemer and Joshua Reynolds, and with elegance by the company, "Stabat" alludes to the modernist ballets of Antony Tudor, which are at once grounded in the ordinary and weighted and tragic. But unlike Tudor, Smuin runs out of ideas midway and devolves into sentiment. With Reynolds as a ghost come to visit grieving Roemer, the work echoes Giselle, though twisted for an age of global terror. And if "Stabat" is a nod to "Giselle" then "Eternal Idol" is a bow to a steamy Victoria Secret ad. In a work inspired by Auguste Rodin's sculpture of an amorous couple rising out of and pressed into a boulder, Smuin presents lovers, here the supple Robin Cornwell and elegant Joshua Reynolds, in beige unitards in a pas de deux of kitschy ardor. Relying on suggestive leg battements, basic turns and uneventful leaps — all orgiastic exclamation points — "Idol" is inarticulate enough to be right at home in a classy strip club.
The work — which runs through Sunday at the San Jose Center for the Performing Arts — is the only surviving 19th-century classical ballet comedy, It takes us far from dance like no one is watching ballet slipper applique the domain of princes, swans, witches and fairy godmothers into a world in which a stubborn father is trying — unsuccessfully, of course — to control a stubborn daughter, But there is another reason why company artistic adviser Wes Chapman's staging of "Don Quixote" was such a good choice, For comedy in ballet — it's a rarity in any period — you need performers who can act as well as dance, Ballet San Jose has a long tradition of cultivating these twin qualities in its ranks..
While bidding adieu to Kaufman, let's welcome Berkeley native Arianne MacBean back to the Bay Area. She presents the Bay Area debut of her Big Show Co. with two signature works at ODC Theater, Thursday through Saturday. With a brief discussion in between, she's presenting her company in 2012's "The People Go Where the Chairs Are," and the world premiere of a new work, "present tense," both featuring original jazz scores by composer Ivan Johnson. Given her deep commitment to writing — she's published fiction, dance criticism and a recent children's book, "The Backyard Fairies" — it's not surprising that MacBean draws much of her inspiration from text. "The People Go" was inspired by the notes that Thornton Wilder wrote to himself while writing the iconic play "Our Town." In much the same way, "present tense" draws on the short stories of Lydia Davis.
Tuesdays with Morrie: Tabard Theater Company stages this autobiographical story about an accomplished and driven journalist who meets weekly to learn life lessons from his former college professor, Through Feb, 22, times vary, Theatre on San Pedro Square, 29 N, San Pedro St., San Jose, $15-$38, 408-679-2330, tabardtheatre.org/TOSPS, MasterPieces: Ballet San Jose's first repertory program of the season consists of the company premiere of Fancy Free, with choreography by Jerome Robbins and music by Leonard Bernstein; Tchaikovsky's Theme and Variations, choreographed by George Balanchine; and In the Upper Room, choreographed by Twyla Tharp with music by Philip Glass, dance like no one is watching ballet slipper applique Feb, 20-21, 8 p.m., and Feb, 23, 1:30 p.m, San Jose Center for the Performing Arts, 255 Almaden Blvd., San Jose, 408.288.2800, balletsj.org..
Playwright Marcus Gardley goes deep into the issue in his play "The Gospel of Lovingkindness," which premiered at Chicago's Victory Gardens Theater in 2014. But as Ubuntu Theater Project's production in Gardley's Oakland hometown demonstrates, it's all too resonant in any community plagued with poverty and crime. This new company presents powerful and provocative dramas in nontraditional theater spaces that mirror the settings of the plays themselves. One of those productions last year was Gardley's "Dance of the Holy Ghosts" in Oakland City Church, and now Ubuntu kicks off its 2016 season with another haunting, lyrical play by the same author in the same space.